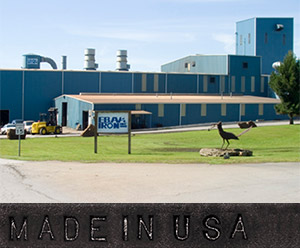 EBAA Contact Information

EBAA Iron, Inc. is a family owned and operated by the Bradley Family. EBAA manufacturers and sells pipe restraints and flexible expansion joints for the water and wastewater pipeline industry.
From the time EBAA Iron began in 1964 with founder Earl Bradley, the company has grown to include the most modern ductile iron casting facilities in the United States.
Since introducing its first patented product in 1968, EBAA has continued to lead the way in innovative products for the water and wastewater industry that are engineered to save time and money. EBAA is the only manufacturer of the world famous MEGALUG® Mechanical Joint Restraint. EBAA specializes in pipe restraint and is 100% MADE IN THE USA.
Product and or Sales Inquiries

Manufacturing Facilities

Headquarters
EBAA Iron, Inc.
P.O. Box 877
702-30 County Road 442
Eastland, TX 76448
Phone: 254.629.1737
Toll Free: 800.633.9190
Fax: 254.629.2910
contact@ebaa.com
EBAA Iron, Inc.
P.O. Box 1728
Albany, TX 76430
Phone: 325.762.3084
Fax: 325.762.3493
contact@ebaa.com
EBAA Iron, Inc.
2508 East 9th Avenue
Cordele, GA 31015
Phone: 229.273.7644
Fax: 229.273.8938
contact@ebaa.com
Request for Information

Please use the form below to request information from EBAA Iron.