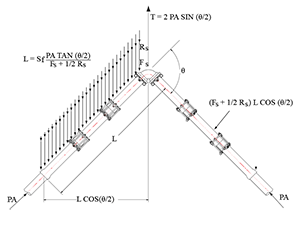 Joint Restraint

A properly designed, restrained pipeline uses the bearing strength and frictional resistance of the soil, essentially, to turn the pipeline into a thrust block. The same basic parameters required to determine the size of a thrust block are used to determine the amount of pipe that must be restrained to resist thrust forces underground. These parameters are pipe size, pipe type, test pressure, fitting type, trench type, depth of bury, soil type, and safety factor. With this information and the various design equations, it is possible to quickly and simply calculate the length of piping that must be restrained. EBAA with over 50 years of experience, research and testing has written several technical papers on how to properly design and restrain your pipeline systems.
EBAA Connection Technical Papers
Restraint Length Calculator
Engineers at EBAA, utilizing the design equations and parameters listed and detailed in the above Connection Technical Papers have generated an easy-to-use Restraint Length Calculator (RLC). The RLC is 100% web based so no need to install software, has ease of use, with the ability to save your work for future reference, changes or additions and can generate soft or hard copies of each fitting calculation and restrained length.