Series 2800 MEGALUG® Restraint Harness for AWWA C900 PVC Pipe
If a product is not installed correctly how can you expect it to perform correctly. At EBAA Iron that is one of the main points we try to keep in mind as we expand product lines and develop new products.
That is the case the Series 2800 PVC restraint harness. Based on our development of the 2000PV MEGALUG for PVC pipe, we were keenly aware of some of the installation issues that can develop with restraint devices as diameters go above 12-inch. As we looked at serrated devices in the larger sizes, we discovered very quickly that they required abnormally high assembly torques in order to get the gripping teeth to make any kind of impression on the surface of the PVC pipe. Look at some of the serrated restraint products from our competitors. You will find that the assembly torques listed can go as high as 350 ft-lbs. How effective is an installer going to be in trying to get to that torque on a product that is on a pipe that is in a ditch?
The Series 2800 restraint harness for AWWA C900 PVC pipe addresses that very issue. It is comprised of a simple ring that slides down the length of the pipe and bears against the back of the bell, a wedge style restraint ring that is assembled on the spigot, and a number of tie bolts to connect the two rings.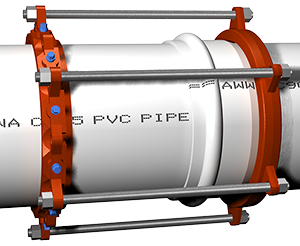 The assembly is very simple – regardless of size.
Slide the bell ring down the pipe,
place the restraint ring on the spigot,
assemble the pipe joint,
use the tie bolts to properly position the restraint ring
tighten the wedges on the restraint ring
hand tighten the nuts on the tie bolts.
The highest torque involved is that the twist off nuts of the restraint wedges of the restraint ring.
The design is an extension of our 2000PV MEGALUG for PVC pipe and has the same proven, tested restraint wedges and installation process.
Product Page
Connections: PV-01
Connections: PV-02
Connections: PV-03
---
Since introducing its first patented product in 1968, EBAA has continued to lead the way in innovative products for the water and wastewater industry that are engineered to save time and money. EBAA is the only manufacturer of the world famous MEGALUG® Mechanical Joint Restraint. EBAA specializes in water and waste-water pipeline joints and is 100% MADE IN THE USA.