Series 2000PV MEGALUG® Mechanical Joint Restraint for PVC Pipe
In the 70s and 80s PVC pipe really started to become a popular alternative for water distribution piping. "Conventional wisdom" at the time dictated that the ONLY WAY to grip PVC pipe was with a full circumferential, serrated device. As the size range of PVC pipe was increased it became obvious that full circumferential gripping had its limitations. At EBAA Iron, we felt that installation torques required for full circumferential gripping, especially in larger sizes, was too high for consistent, reliable installation in the field. And if it isn't installed correctly in the field it won't perform correctly in the field.
With our introduction of the Megalug wedge style of restraint for ductile iron pipe in 1984, EBAA Iron dramatically improved restraint of ductile iron pipe both in ease of installation and overall performance. This was particularly the case when compared to "conventional wisdom." We asked ourselves why we couldn't apply similar gripping design to PVC pipe - so we tried it. First, we modified the wedge from the ductile iron restraint. That really improved the installation and consistency of the gripping of the pipe surface. We were told "you can't do that" and "you will damage the PVC pipe." In spite of this, the product was encouragingly successful. We simplified the installation and, as a result, improved the ability of installers to do their job correctly.
We began modifying the design of this restraint until we came up with what is now the 2000PV, Megalug restraint for PVC pipe. Of course, we were still told that "you can't do that, you'll damage the long-term strength and life of the PVC pipe." We countered this by embarking or the most ambitious testing program we could undertake. We wanted to test the pipe with the restraint to the same limits as the pipe by itself. As a result, we performed tests on 2000PV restrained PVC pipe sections to the quick burst and long-term tests required in AWWA C900 and C905 to qualify the pipe. Although not a requirement of AWWA C900 or C905, we performed cyclic pressure tests to demonstrate once and for all that use of wedge style restraint for PVC pipe was viable, reliable, and consistent. We didn't just test one or two sizes and declare that the testing applied to all sizes. We did this testing on all sizes up to and including twenty-four inch since that was the largest size available at the time. You can learn more about this testing by reading our Connections Bulletins PV-01, PV-02, and PV-03.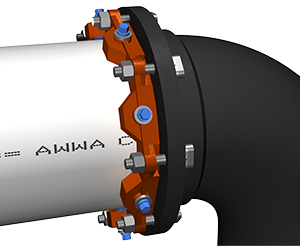 We introduced the 2000PV in 1989 and almost 30 years of performance in the marketplace have demonstrated what we already knew based on our testing – the 2000PV Megalug for PVC pipe was a great product. Just like the Megalug for ductile iron pipe the Megalug for PVC was simple install and significantly improved the performance of restraint in the field. Oh, all of those naysayers who told us (and told our customers) that we couldn't restrain pipe that way? They have tried to copy what we have and are now promoting those products as the best way to grip PVC pipe. Go figure.
You can rely on the strength, durability, and longevity of EBAA Iron restraint. We have done the most testing, provide easy to install products, and have the production capability to meet your needs now and in the future.
Product Page
Connections: PV-01
Connections: PV-02
Connections: PV-03
---
Since introducing its first patented product in 1968, EBAA has continued to lead the way in innovative products for the water and wastewater industry that are engineered to save time and money. EBAA is the only manufacturer of the world famous MEGALUG® Mechanical Joint Restraint. EBAA specializes in water and waste-water pipeline joints and is 100% MADE IN THE USA.