EBAA Iron FLEX-TENDS® are now UPC Listed for use in DWV Systems
Earlier this month EBAA Iron received notification that, after all of the testing and inspections, the Flex-Tend product line is officially UPC listed in sizes 3" - 12" for use in DWV systems.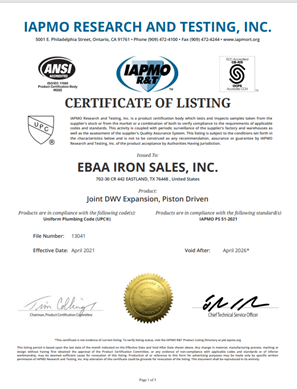 If you are not familiar with UPC certification you may have seen the UPC symbol on different items in your house.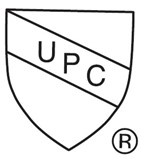 This symbol means that the component has been tested to requirements of IAPMO standards and is subjected to periodic inspections to ensure that the components maintain a level of quality and performance.
Designated as an American National Standard, the Uniform Plumbing Code (UPC) is a model code developed by the International Association of Plumbing and Mechanical Officials (IAPMO) to govern the installation and inspection of plumbing systems as a means of promoting the public's health, safety and welfare.
The Flex-Tend product line was tested to and complies with the requirements of IAPMO PS 51-2021 "Industry Standard for Expansion Joints and Flexible Expansion Joints for DWV Piping System".
This is one more reason to feel comfortable relying on EBAA Iron products, and specifically EBAA Iron Flex-Tends, in your system.
Product Page
---
Since introducing its first patented product in 1968, EBAA has continued to lead the way in innovative products for the water and wastewater industry that are engineered to save time and money. EBAA is the only manufacturer of the world famous MEGALUG® Mechanical Joint Restraint. EBAA specializes in water and waste-water pipeline joints and is 100% MADE IN THE USA.