Why the Series 1900 Restraint Harness?
In 2016 AWWA released their sixth edition of the standard for Polyvinyl Chloride (PVC) Pressure Pipe and Fabricated Fittings, C900-16. Prior to this edition, the C900 size range was 4-inch through 12-inch nominal pipes sizes, while C905 covered sizes 14-inch through 48-inch and included IPS sized PVC pressure pipe as well. This new edition absorbed C905 into C900 and included the addition of even larger pipe sizes of 54-inch and 60-inch.
As these were two separate standards, some harmonizing between the two needed to occur before a merger could take place. For example, originally, the pressure-classifications were not aligned between the older editions of C900 and C905. To resolve this the AWWA standards committee wrote in changes, such as a revision of the pressure-class determination section of C900 to match that of C905. This particular revision mainly affected the 4-inch through 12-inch sizes providing them with an increase in pressure ratings over their previous ratings.
Then, a new C900 restraint harnesses was needed. EBAA Engineering, with decades of PVC pipe restraint knowledge, set about designing a new harness.  Rather than redesign the existing 1500 and 1600 series that had been used successfully at the rated pressures of the originally published C900, EBAA designed a new harness that would be effective at the higher-pressure ratings of the updated C900.  The 1900 Series was born. A harness that met all requirements, has a safety factor of 2:1 and is FM Approved. Not only is the 1900 harness designed for full pressure C900-16 PVC pipe, it may also be used on full pressure C909 MOPVC pipe as well.
The 1900 may also be used in several configurations for different applications. The Split Ring design allows it to be installed on existing pipe as well as new installations and lends itself to be used as restraints for ductile iron push fitting with restraining ears (reference 19PF00 Series). In addition, a 1900 split restraint ring may be used as a restraining device for new or existing installations that utilize mechanical joint glands (reference 19MJ00).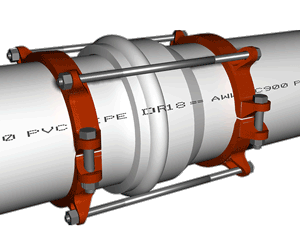 1900 Series
Rated to the full pressure of both C900-16 and C909 PVC Pipe, sizes 4-inch through 12-inch
Applications:

1900 Series Harness, for the restraint of bell and spigot PVC Pipe
19MJ00 Series, for the restraint of existing or new PVC pipe at mechanical joint fittings utilizing an MJ gland
19PF00 Series, for the restraint of PVC pipe at DI fittings with restraining ears

FM Approved for C900-16 PVC Pipe
Product Page
---
Since introducing its first patented product in 1968, EBAA has continued to lead the way in innovative products for the water and wastewater industry that are engineered to save time and money. EBAA is the only manufacturer of the world famous MEGALUG® Mechanical Joint Restraint. EBAA specializes in water and waste-water pipeline joints and is 100% MADE IN THE USA.